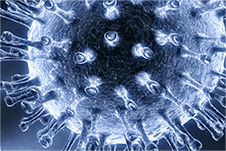 When the immune system becomes stressed, the body becomes more susceptible to illness – and this means lost worker productivity and public health issues! In order to keep the people in your building healthy and safe, it is a smart idea to regularly decontaminate your area. Regular cleanings are especially a high priority for any business that has employees or guests in close quarters. Action Restoration offers complete decontamination services that are guaranteed to leave your facility clean. During the decontamination process, our professionals target the following areas: air ducts, mechanical systems, all surfaces, walls, sub-surfaces and any other areas requested by the client.
To ensure all precautions are taken, Action Restoration uses a proprietary cleaning solution that is EPA-registered and safe for indoor use. Our cleaning solution has been engineered to be extremely effective against many harmful strains of virus, bacteria, and fungi, while acting as a safe substance around humans and animals.
Protect your employees and your operations with an official ASA-1000 decontamination from Action Restoration. To schedule your decontamination in TX, LA, AL, MS, or FL, call Action Restoration today at 800-760-9081.
Benefits of Our Decontamination Process
At Action Restoration, we pride ourselves on providing our clients with clean workspaces through the use of our EPA-registered, zero toxicity rated ASA-1000 decontamination system. Here are some of the many benefits that are associated with our system:
It Is registered safe for indoor use by the United States EPA
It is effective for broad spectrum decontamination; kills mold, bacteria and virus strains
It has a high assurance of structural decontamination and indoor air quality restoration
It requires minimal remediation work
It removes microbial threats from environment to potentially improve human immune system functions
It has been proven to be effective at controlling most bacterial, viral, and fungal organisms for extended periods of time
If you would like more details on any of the points provided, we encourage you to contact us today to speak with one of our Decontamination experts.
Decontamination System Details
Our unique cleaning system, ASA-1000, has been proven in independent lab testing to be effective in eradicating the following organisms:
Viruses – Swine Flu (H1N1), Avian Flu (H5N1), Bovine Corona Virus, Foot and Mouth Virus, Influenza A, Norovirus, SARs-Like Corona Virus
Bacteria – Anthrax, Bacillus subtilis, Clostridum difficile, Enterobacter aeruginosa, VRE (Vanomycin-resistant Enterococus faecalis), Escherichia coli (E-coli), Klebsiella pneumoniae (Pneumonia), Mycobacterium tuberculosis (Tuberculosis), VISA (Vanomycin Intermediate Staphylococcus aureus), MRSA (Methicillin-resistant Staphylococcus aureus), Black Plague (Yersenia pestis), Proteus mirabillis and Biofilms (collection of malodorous bacteria).
Fungi – Aspergillus niger, Aspergillus veriscolor, Alternaria alternata, Penicillium variabile, Stachybotrys chatarum, Trichophyton mentagophytes.
If you are interested in cleaning any of the above items from your building, Action Restoration has the equipment and manpower necessary to get the job done right the first time. We service homes and commercial properties of all types in Florida, Texas, Alabama, Louisiana, and Mississippi.
MRSA Decolonization & Decontamination
MRSA is a bacterium that causes skin infections on different parts of the body. This contagious infection is particularly troublesome because it is resistant to most commonly used antibiotics. As MRSA has been an increasingly common problem, it is important to keep for facility clean to prevent an outbreak. If left untreated, MRSA can have significant health consequences for the people in your building. In the case of an MRSA outbreak, we encourage you to call Action Restoration so that our team of decontamination experts can quickly and effectively remove the bacterium.
MRSA Fast Facts:
MRSA accounts for about 90,000 serious infections and 18,000 deaths every year in the United States.
More deaths are linked to MRSA infections than AIDS.
Prevention and quick responses are essential anywhere that employees or residents live in close quarters because infections often spread rapidly.
MRSA Decontamination in TX, FL, AL, MS & LA
Protect your employees and operations by treating and preventing MRSA and other microbial threats with our EPA-registered, zero-toxicity rated ASA-1000 system. In addition to being highly effective against MRSA, our system is effective at wiping out strains of influenza, norovirus, and a number of other harmful pathogens.
Regular cleanings should be a high priority for any business that has employees or guests in close quarters. Off-shore platforms, ships, and locker room facilities can also be at increased risk and should have cleanings more frequently to ensure a safe and healthy environment.
About Our Decontamination Services
If you require decontamination services in the Gulf Coast area of Texas, Louisiana, Alabama, Mississippi or Florida, contact Action Restoration today for speedy, high-quality service.  Since 1998, businesses have relied upon Action Restoration to get them back to work faster after microbial interruptions. Unlike many of our competitors, we own all of our equipment and employ a full-time team of nearly 100 disaster response professionals. We proudly own the largest inventory of commercial water drying equipment available and this equipment is also the highest performing in the industry. With our extensive line of equipment, we can often accelerate structural drying time by 30 percent or more! This is an important factor to consider if you want to reduce your financial loss and business interruption.